Advisors
Our Board of Advisors guide the strategic direction of STAY COOL. This dynamic team of leaders volunteer their time at quarterly meetings where they advise the direction of STAY COOL's events and programs.
Linda Giannelli Pratt

Linda Giannelli Pratt, Advisory Council Chairperson
For more than 30 years, Linda Giannelli Pratt has successfully built a professional career focused on community-based environmental protection. Her experience is broad, and includes positions as a laboratory analyst, regulatory compliance specialist, consultant, director of regional environmental programs for the City and County of San Diego, director of a community sustainability program for The Natural History Museum, and managing director of a statewide nonprofit organization, Green Cities California, which serves local government leaders to advance more sustainable policies and practices. She is currently an adjunct professor at UCSD. Linda received a BS in Microbiology and Chemistry from CSU Long Beach, and an MS in Environmental Science from CSU Dominguez Hills. Linda is also a proud grandmother!
Laura Schumacher, Advisory Council Vice Chairperson
Laura is a long-time PTA board member involved in child advocacy. She currently serves on the executive board of the San Diego Unified Council of PTAs. She has served as president of the San Diego Unified Council of PTAs and the Ninth District PTA executive committee. In 2014, Laura chaired a local PTA committee which wrote a resolution "Climate Change is a Children's Issue". The resolution was adopted by the California State PTA Convention in 2015 and authorizes PTAs throughout California to advocate for climate change legislation, and encourages teaching climate science and sustainability in California public schools. Laura holds a BS from the University of Texas.
Emily Young, PhD

Emily Young, PhD, Advisory Council Vice Chairperson
Dr. Emily Young is Executive Director of The Nonprofit Institute in the University of San Diego's School of Leadership and Education Sciences. She has spent over 20 years in various positions in philanthropy and higher education. Before the University of San Diego, she served as Vice President of Community Impact at The San Diego Foundation, where she built its Environment Program with grantmaking initiatives around climate change, conservation and outdoor access, and clean air/water protection. She also managed initiatives on civic engagement, youth development, and neighborhood revitalization. Dr. Young received the 2011 Funder's Network for Smart Growth Nicholas P. Bollman Award for leaders who inspire through values and action. Emily was also an assistant professor of geography and regional development at the University of Arizona. She received an MS in geography at the University of Wisconsin and a Ph.D. in geography from the University of Texas at Austin.
Peg Engel

Peg Engel, Founder, Secretary/Treasurer
Peg is Natural Resources Chair for the League of Women Voters of San Diego and likes to work with the "Lagoon Platoon" on restoration projects for the San Elijo Lagoon Conservancy. With a BA in Geography from the University of Washington, she worked a few seasons as a national park ranger before settling in a career of administrative support to biomedical researchers, while continuing to support Seattle-area parks and conservation organizations. Married to STAY COOL co-founder David Engel, she shared in the thrill of becoming a grandparent, and now especially enjoys time outdoors with their granddaughter, whose curiosity and delight in the natural world continuously rekindle her passion for conservation.
Robert A. Leiter, FAICP

Robert A. Leiter, Past Advisory Council Chairperson
Bob Leiter has had a distinguished career in city and regional planning for over 40 years, including service as planning director for four California cities. In 2003, he was appointed as Director of Land Use and Transportation Planning for the San Diego Association of Governments (SANDAG). While serving in that position, Bob was responsible for overseeing regional planning activities in the areas of transportation, land use, public facilities, environmental management, and interregional and bi-national collaboration. After retiring from SANDAG in 2009, Bob worked as a part-time planning consultant, assisting regional and state planning agencies and organizations with the implementation of SB 375, California's pioneering climate change legislation. For several years Bob also served as an adjunct lecturer in UC San Diego's Urban Studies and Planning Program. Bob holds a BA in political science and MA in economics from UC Santa Barbara, and was elected to the College of Fellows of the American Planning Association in 2008.
Cliff Colwell

Cliff Colwell
Clifford Colwell, MD joined the STAY COOL board in February 2019, and has been an active member since its formation. He is also actively involved with The San Diego Foundation. Cliff is medical director of the Shiley Center for Orthopaedic Research and Education at Scripps Clinic in La Jolla, California and holds the Shiley Chair in Orthopaedic Research. He is also a clinical professor in the Department of Orthopaedics and Rehabilitation at the University of California, San Diego, School of Medicine; and adjunct clinical professor, Department of Basic Science and Clinical Research at The Scripps Research Institute. He was formerly chief of the Orthopaedic Division at Scripps Clinic, and for 25 years was team physician for the San Diego Padres. Dr. Colwell has received numerous honors and awards for his research and teaching. Cliff received his medical degree from the University of Michigan and did subsequent residency/fellowship training at Hospital for Special Surgery in New York City and Los Angeles County Hospital. He is an Air Force military veteran. Cliff lives in La Jolla with his wife Carolyn of fifty-three years and has three children and six grandchildren.
Tracy Delaney

Tracy Delaney, PhD, RD
Tracy Delaney, PhD, RD, is the founding director of the Public Health Alliance of Southern California – a regional coalition of nine local health departments whose members have statutory responsibility for the health of 50% of California's population. Her work advances population health and equity through multi-sector initiatives addressing policy, systems and environmental change. She has spearheaded multidisciplinary projects integrating land use and transportation, food systems, climate and water resources and community equity indicators. During her tenure at the County of San Diego, she was Principal Investigator for Centers for Disease Control's (CDC) Communities Putting Prevention to Work grant, the nation's largest federal obesity prevention award, and the CDC's Community Transformation Grant. She holds a doctorate in Nutrition from University of California, Davis. Dr. Delaney was honored with the 2014 Leadership Award by the Southern California Public Health Association. She has a voluntary Clinical Professor faculty appointment with the University of California Department of Family Medicine and Public Health.
David Engel

David Engel, Founder
David has served as the vice chair of The San Diego Foundation (TSDF) Climate Initiative, and as chair of TSDF's Environment Working Group. He has also served on the boards of several non-profit environmental organizations. David is retired from the faculty of the University of Washington and holds degrees from the University of Minnesota (BS, DDS) and the University of Washington (MS, PhD).
Geri Bunker Ingram

Geri Bunker Ingram
Geri is a recently retired librarian with a specialty in systems and digital asset curation. As an academic librarian, she facilitated strategic planning for information technology, managed library systems departments, and led cross-functional digital library programs in her roles as manager and administrator at the University of California, the University of Washington, and Texas A&M University. Although she graduated from UC Berkeley with a degree in the Conservation of Natural Resources, her graduate work in librarianship drew her into information science rather than her first love, botany. She came to back to environmental science and to climate change work through the Citizens' Climate Lobby of North County, San Diego 350.org and the Sierra Club. She attended training with the Climate Science Alliance, and she serves on STAY COOL's Education Committee, helping with Climate Kids projects in San Diego and Carlsbad. Geri also volunteers with the Carlsbad Library and elementary schools.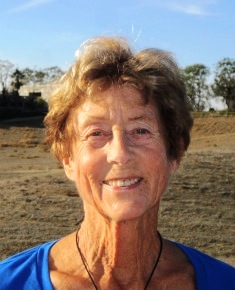 Sue Randerson

Sue Randerson
Sue leads nature walks for children at Torrey Pines State Natural Reserve and recently served as Children's Program Director. She served on the Environment Working Group at the San Diego Foundation (TSDF) and now participates on TSDF's Opening the Outdoors Vision Action Team. She teaches classes in Ocean Science to elementary school students and has also taught Global Climate Change. Sue received a BA from Stanford University and a Fulbright fellowship to the University of Tuebingen in Germany, then taught Spanish, German and English in the San Diego Unified School District.
Founding Members
Wenda Alvarez, Lisa Bicker, Carolyn and Cliff Colwell, Joan Dahlin, Marty Eberhardt, Paul Eichen, David and Peg Engel, Philip Hastings, Nicola Hedge, Ann Hunter-Welborn, Robert Leiter, Patricia and Mike McCoy, Phyllis McGrath, Art Miller, Sue Randerson, Richard Somerville, David Welborn, Emily Young, Bradley Zlotnick
Community Supporters
Michael Beck, Endangered Habitats League Conservationist
Rafael Castellanos, Partner, Solomon Minton Cardinal Doyle & Smith LLP
Aaron Contorer, Board Member, Equinox Center
Tony Haymet, Distinguished Professor, University of California San Diego (UCSD), and Director & Vice-Chancellor Emeritus, Scripps Institute of Oceanography (SIO), UCSD
Len Hering, RADM, USN (Ret.),  Retired Executive Director, Center for Sustainable Energy
Charles F. Kennel, Distinguished Professor, UCSD & Director Emeritus, SIO
Andy Mauro, Audubon Society Conservationist
Michael McDade, President, McDade Strategic Consulting
Veerabhadran "Ram" Ramanathan, Distinguished Professor and Climate Scientist, UCSD and SIO
James T. Waring, Executive Chairman and Co-Founder, CleanTECH San Diego